REMANUFACTURED PARTS & PRODUCTS FROM THE TR DRIVERS CLUB & ITS MEMBERS
Steve Bishop has had the green tartan seat facings and door trim material reproduced. It has been deliberately re-created in a slightly darker than original green which many will feel is more suitable. As can be seen, this works very well with the addition of green piping.
Steve can be contacted at bishop.steve2@gmail.com for prices and availability .
____________________________________________________________________________________
'Premium' Side Stripes. Available to Order in Gold, Silver, Black or White.
£70:00 per set [TRDC Members], Non-Members - Price on Application.
Note: Owing to the nature of this item, collection only, by arrangement.
E-mail Chris Turner for Details - chris_turner53@hotmail.com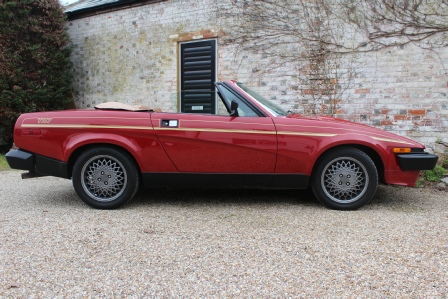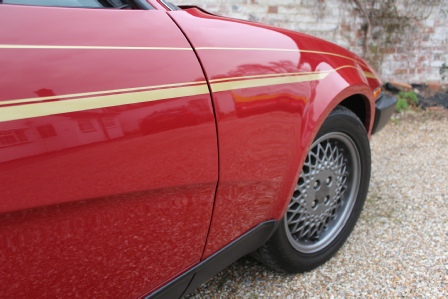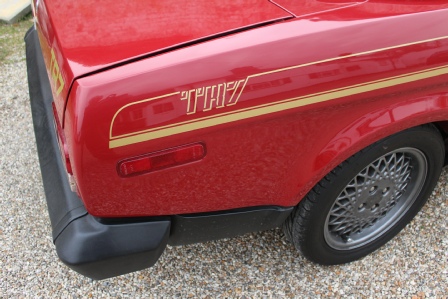 ____________________________________________________________________________________
The TRDC are pleased to announce that we now stock a small supply of gear gaiter ferrules. These small, seemingly insignificant trim items are often either perished or missing completely. Now available in a turned aluminium or a product that closely replicated the black original, the ferrule is easily fitted and takes just a few minutes. First, dis-connect the battery then remove the gear knob. Then two self-tapping screws are taken from the plastic trim retainer that surrounds the handbrake. This allows the gaiter panel to be carefully prised up – all that holds it in place are the four plastic retaining buttons underneath. With the gaiter now free of the car, the ferrule can be gently pushed into place - from the underside - before the item is re-fitted to the car. Ferrules are the same price for either variety - £15 + £2:50 P&P. Don't forget to re-connect the battery!
Contact: info@trdrivers.com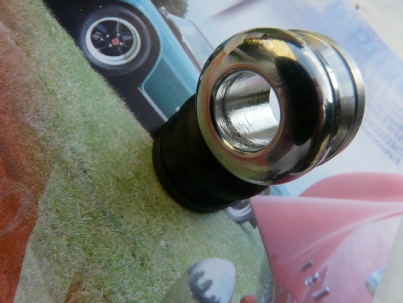 ____________________________________________________________________________________
In the June 2015 Edition of the TR-Driver, our TR8 Registrar Brian Ridley-Jones made mention of the seal for the filler cap [small size caps post VIN ACG25001] and part ZKC3541, the gasket that goes beneath the filler cap. He went on to say that most likely to have perished over the years. He has now had these vital items re-manufactured. Image shows the new seal in place with the old seal removed.
Contact: ridleyjones@hotmail.com
FUEL FILLER SEALS (small/late petrol cap) only)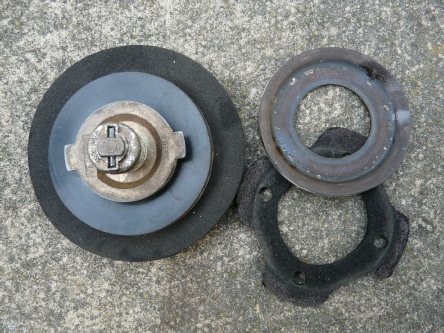 ____________________________________________________________________________________
At the 2015 TRDC National Weekend we started a list for potential pre-orders and we are now in a position to request confirmation of these. We'd also welcome any other orders from members.
As a result of additional machining / finishing the final price will be slightly higher than first envisaged at £12 per unit.
One fifth of the wheel centres have already been sold or pre-ordered. I prefer to hand deliver at the Bullet Run, Billing, area meetings etc. for £12 per centre. However, the cost of post and packing plus insurance for 4 or 5 alloy wheel centres (paypal to ridleyjones@hotmail.com) is listed below:
Contact: ridleyjones@hotmail.com
TR7/8 ALLOY WHEEL CENTRES
____________________________________________________________________________________

Original Used - NEW - NOS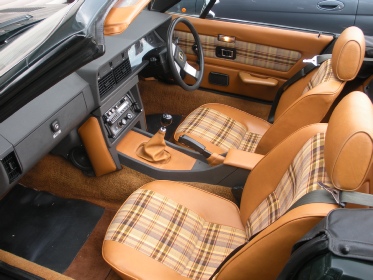 Letter To The Editor.
Here's a little unsolicited feedback received for the vinyl-paint that was supplied to a local member recently. Please note that we are unable to send paint through the Royal Mail!
Hi Paul,
See attached pictures of finished interior after painting the door cards, sun-visors, knee pads and the back panel. It looks simply stunning!! I think that it's virtually impossible to tell that it's actually been painted, and the colour match is spot on!
I still have over half a tin of paint left to use as touch up, but it seems unlikely to be required as it's a pretty robust surface.
A great job Paul. As near to having a 'new' interior for just £30.00 – I can't argue with that!
Regards TRDC Member.
Contact: paul_lewis_1966@hotmail.co.uk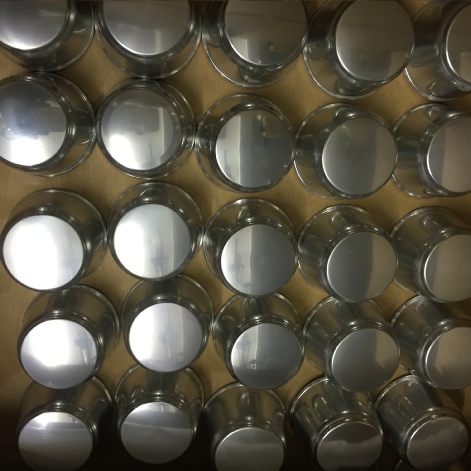 Further to the article about labels for the TR7 V8 and TR8, the following is the current list of 48 labels for the TR7 and TR8 that I have reproduced. Lots of people have said they would like a set for their car, but I stopped trying to put these labels in sets when I reached over 16 different cars all with varying requirements. The actual variation is likely to be well into the twenties. The image above is a set for a UK early Speke car. Examples of complete label sets HERE.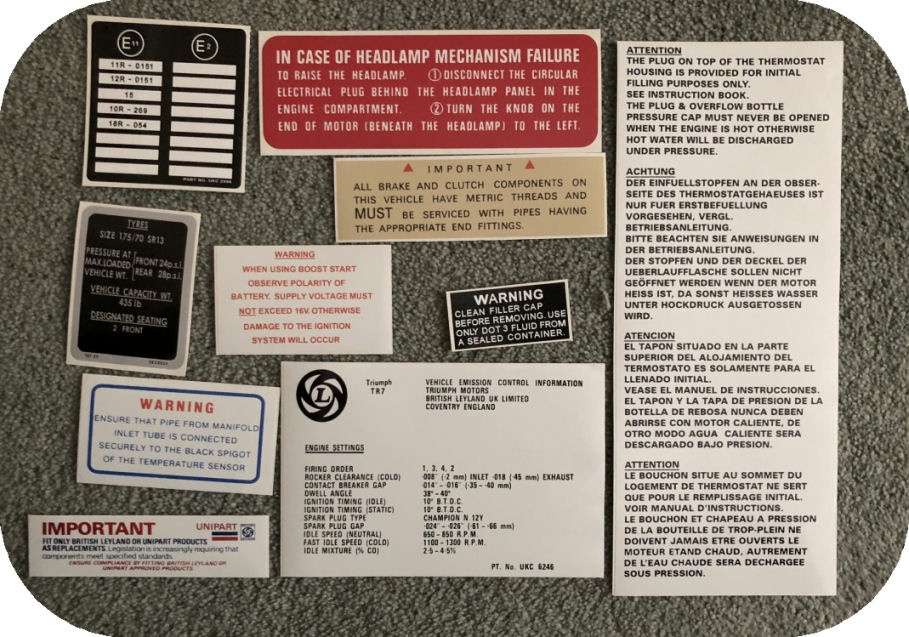 TR7 & TR8 STICKERS & LABELS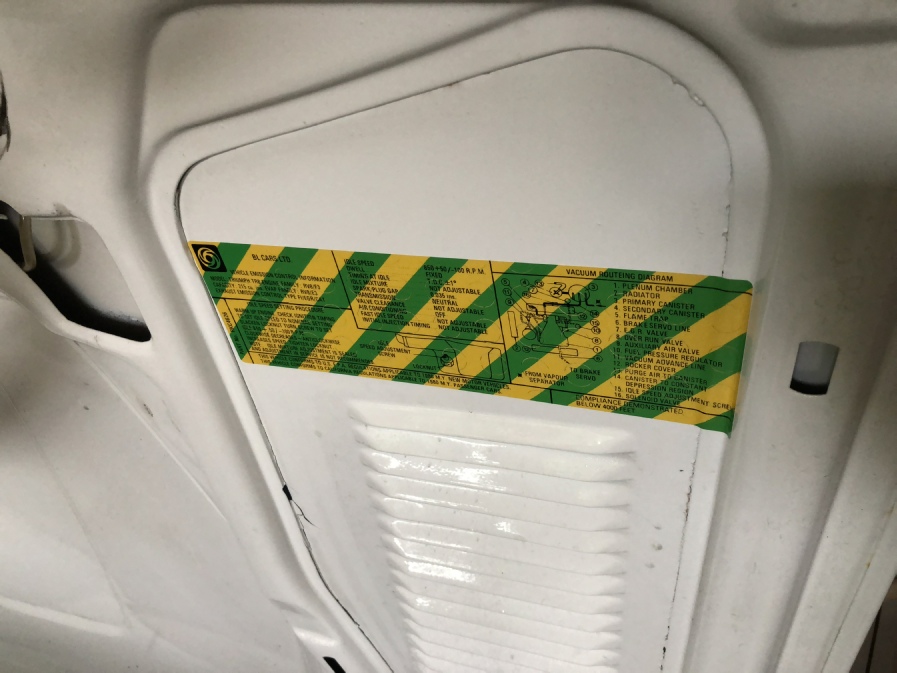 If anyone would like to order one or more [and to date the large four-language label (001) for under the centre of the bonnet on a Speke TR7, TR7 V8 and TR8 has proven to be the most popular] then please make sure you specify a VIN number and details of the car.
Is it for a UK, European, USA or Canadian Specification vehicle? Is it a Drop Head? Does it have air-conditioning? What size tyres are on the car?
Labels vary in price from £1:00 to £8:00 depending on size (plus postage). Cars usually require just one label (although some people have taken the opportunity to buy a spare) but be aware that two number 003s are normally required, one for each air box. There are at least ten more labels of which I do not yet have a copy (including numbers ULC1057 and ULC1058 for the TR7) as well as UKC7857 for the Fixed Head cars. These are found on the sun visor and are often misquoted as being the Drop Head hood stowage label, of which there are two variants but neither in fact carry a part number!
Fuse panels had a multiplicity of labels and a couple of the more popular ones are available. The part numbers of fuse labels was looked into over twenty years ago when it was found there were over ten different ones. A database is currently under construction and confirmation of car model, LHD or RHD, VIN and fuse layout part numbers would be appreciated. The main focus is numbers for Canley and Solihull cars as the earlier Speke vehicles had a completely different layout - though I await information to the contrary as I am sure some Speke cars will differ!
I can be contacted at ridleyjones@hotmail.com
Examples of complete label sets HERE.
____________________________________________________________________________________
____________________________________________________________________________________
The TR Drivers Club and TR Spares Development Fund have partnered with Ex-Pressed Steel Panels Ltd. to reproduce the TR7 full headlamp panel. The first batch of ten panels have been a good success story with eight of the ten having already been sold and with several enquiries for the remaining pair it looks certain that this most fundamental of all TR7 panels will be back in production very soon.


CLICK ON THE TR DRIVER MAGAZINE THUMBNAILS FOR MORE INFORMATION
Members of the TRDC and the TR Spares Development Fund (meaning we'll cover just about every TR7/8 in the UK) receive 10% discount and combined with the subsidizing of the cost by TRDC members, this makes the final price of a headlamp panel a competitive £625. John C 21st April 2021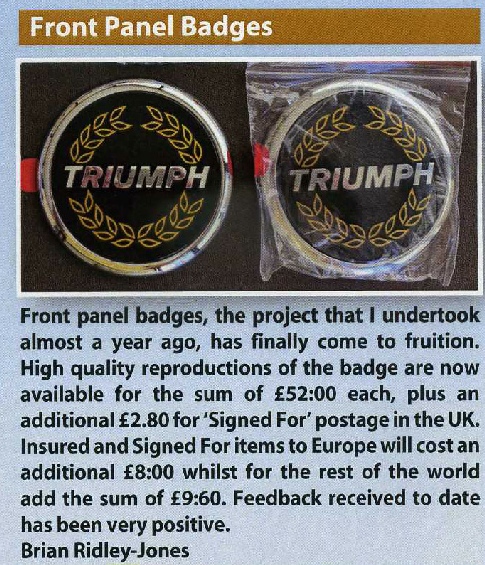 ____________________________________________________________________________________
The irrepressible Brian Ridley-Jones has been working on this project for a long time and as of October 2019 finally has achieved an accurate reproduction of the Solihull produced TR7 headlamp panel badge.
Just £52 each plus postage, please contact Brian to arrange your brand new Triumph TR7 badge to adorn the front of your iconic wedge.
Extract from TR Driver issue 5 2019 to the right of this prose.
Contact: ridleyjones@hotmail.com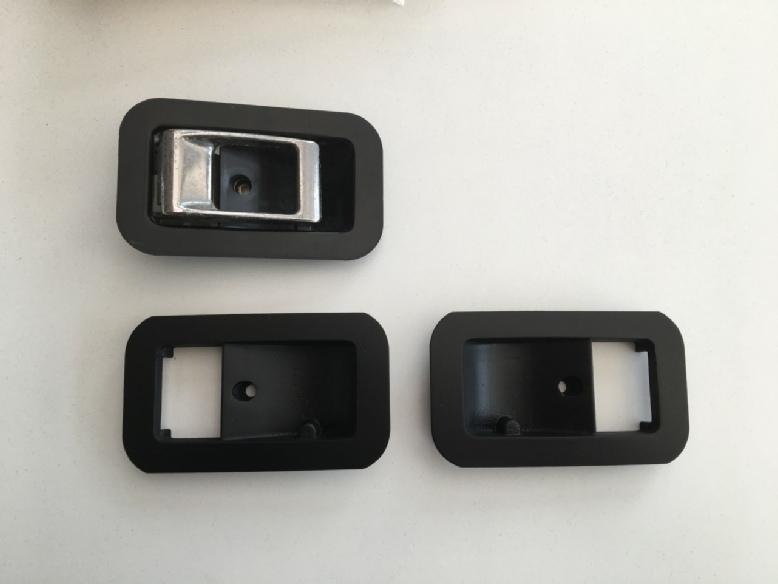 Another scarce TR7 item has been reproduced and returns to the market. The new items are printed and are the two lower examples in the image above. The original item is shown at the top. These are £40 plus £5 for post. Contact Jim Johnson to purchase: james.r.johnson@btinternet.com
____________________________________________________________________________________